About Dr. Portfolio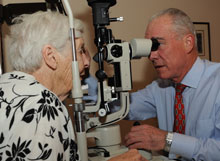 Almerindo Gerard Portfolio, M.D. is a respected and experienced eye surgeon who has been in practice for three decades.
He received his medical degree from Jefferson Medical College in Philadelphia, in 1978. After serving as an intern at nearby Bryn Mawr Hospital, he moved to New York, where he was a resident at New York University Medical Center.
Today, he leads the private practice which his father founded in 1956, and which he joined in 1982. His office is in Glen Rock, NJ. Additionally, he serves as Attending Surgeon at New York Eye and Ear Infirmary, and as Clinical Assistant Professor of Ophthalmology at New York Medical College. He is the former Associate Director of Ophthalmology at Valley Hospital in Ridgewood, NJ.
Whether you are considering LASIK or cataract surgery, or you just need to schedule a regular eye exam, Dr. Portfolio can help you see better. For years, he has relied on the good recommendations of his patients as his best advertising, and as a result his practice has thrived.
Call Dr. Portfolio's office today to schedule an appointment.
Professional Resume
Work History
1982-Present, A.G. Portfolio, M.D.,P.A. Comprehensive Ophthalmology, Cataract IOL/Refractive Surgery
Education
1974, BS, University of Notre Dame
1978, MD, Jefferson Medical College
1979, Internship, Bryn Mawr Hospital, Philadelphia
1979-1982 Resident of Ophthalmology, NYU Medical Center
Licenses
Hospital Appointments
The Valley Hospital, Ridgewood, NJ
Attending Surgeon
Associate Director, Department of Ophthalmology, 1988 to 1996
New York Eye and Ear Infirmary, New York, NY
Saddle River Valley Surgical Center, Paramus, NJ
Board Certifications
Diplomate: American Board of Ophthalmology
Fellow: American Academy of Ophthalmology
Fellow: American College of Surgeons
Teaching Appointments
New York College of Medicine, Assistant Clinical Professor, Ophthalmology
Society Memberships
American Academy of Ophthalmology
New Jersey Medical Society
Bergen County Medical Society
American Society of Cataract & Refractive Surgeons